The Focke-Wulf Triebflugel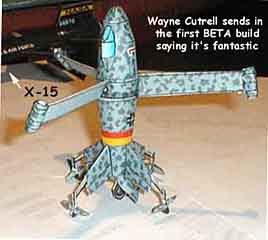 In 1944, at Focke-Wulf, Professor Otto Pabst worked on an interesting fast vertical takeoff aircraft named the Triebflugel. Its purpose was to rise quickly from just about anywhere and attack the allied bombers.
Similar to a helicopter, it was powered by THREE large wing-like rotors but unlike a helicopter, the rotors turned around the fuselage. To preclude fuselage torque, the rotors were powered by small ramjets mounted on the tips and these were to be boosted to start speed by rockets. The landing gear casters in the tail were retractable.The use of the ramjet made it possible to use various cheap fuels.
The big problem consisted, however, in passing from the vertical flight to the level flight and back. The landing presented a particularly delicate moment because the pilot did not have good rearward visibility because of revolving airfoil. One wonders how he/she would have bailed out.